ALERT! Looking for one female to round out a 2BR Suite.  We also have a 1BR Suite(see below for details) available!
Visitor's Guide  – Winter Version
Lebanon Ski Club, get ready for White Gold! We're going to Telluride, Colorado!  BUT, only if you have a passport! See info here to be prepared to travel in January 2018.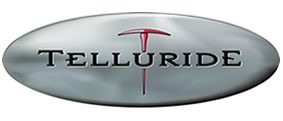 While some ski resorts excel at one or two things, like cuisine, lodging, diversity, challenge, charm, or convenience, Telluride excels across the board and is a near perfect gem.
This is the ULTIMATE Winter Vacation for all members.  Click for Trail Maps and Description of the Ski Areas
Dates February 3-10, 2018
Roundtrip Flight* from Philadelphia through Charlotte to Montrose on American Airlines (subject to change) Self-drive to Philly.
Roundtrip ground transfers from Montrose to Telluride (1 ½ hour trip + 30 minute grocery stop)
5 day Lift Ticket
7 Nights Lodging at the Gorgeous, Slope side, Mountain Lodge (This is a true treat for our members!)
Welcome Party
Superbowl Party
Located between Village Bypass and Double Cabin runs (green)
The View Bar & Restaurant on site
Christy Ski Rentals on site
Ski Valet and Ski Storage
Market within walking or larger grocery down the gondola.
FREE Gondolas for trips into Mountain Village Core and Town of Telluride – easy 200 yd walk or shuttle to the intercept gondola which connects to the main gondola.

NOTE! PLEASE ENSURE YOU HAVE A US PASSPORT

! See our notes on Real ID that may limit air travel using a PA Driver's License. Very Important!
More to come.
Payments: $100 down payment, $400 Payment on August 1, September 1, October 1, November 1 and Varies in December. Packages:
Note below – we have two different pricing levels due to the higher cost of additional flights secured.  The flights schedules and seating, however, are the same.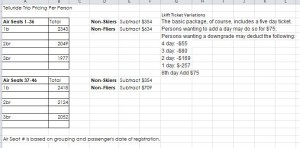 1BR – Suite – 2 people in a  1BR/1BA Suite with Kitchen.  King bedding, sleeper sofa, full kitchen and living room. AVAILABLE! This will work for a couple or two singles.
2BR – 4 people in a 2BR/2BA Suite with Kitchen. This suite includes 1 full bedroom and private bathroom on the first floor, plus a full bedroom with  private bathroom on loft floor. Full kitchen and living room .  Accommodations may vary. Looking for a female to round out a 2 BR Suite.
3BR –  6 people in a 2BR + Loft /3BA Suite with kitchen and living room,  On the first floor there are 2 full bedrooms each with its own private bathroom, plus a full kitchen and living room. The loft floor has a full bedroom and a full private bathroom. Accommodations may vary. We are currently SOLD OUT of 3 BRs but please call for additional availability.
Click here to see suites and amenities. Accommodations may vary –  will be communicated when assigned.
To join us, please send a check for the deposit plus 2 payments =  $900 pp made out to Lebanon Ski Club, and a trip form to:  Jane Miller 259 S 21st St Lebanon PA 17042.  Must be current member to sign up, so please mail a separate membership check with form. Call or text Jane @  717-507-0186 with any questions or janemmms@gmail.com
As always, trip insurance is recommended.  Our trip agent provides a good product. You can access it off the grey bar at the top of their homepage at www.encompasse.com.  Your "first payment" date should be within 21 days of purchase for pre-existing conditions/cancel for any reason level. When filling in the form, the "per booking trip cost" should equal the total amount of travel dollars you want to insure, so If, for example, a husband and wife each paying $1650 for the trip wanted to insure, they can do so by filing one policy totaling $3300.  You would put a "2" in the travellers box. The general coverage begins at about 7% of the cost of the trip.
You can ski right into the charming town of Telluride, set in a box canyon and surrounded with stunning vistas in every direction.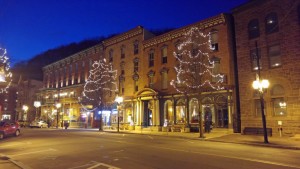 The town's tourist board just opened a new state of the art Visitor's Center on Main Street, where guests can do everything from find where to eat to take 3-D video walk-throughs of popular local hiking trails using touch screens displays with amazing interactive technology.  To help you plan a trip, the visitor's bureau also has a fully featured website.
Please contact me ASAP!
Stake your claim on this WHITE GOLD now!  To join us, please send a  check for the deposit ($100) , and first and second payments ($400 each) = $900 made out to Lebanon Ski Club, and a trip form to:  Jane Miller 259 S 21st St Lebanon PA 17042.  Must be current member to sign up, so please mail a separate membership check with form. Call or text Jane @  717-507-0186 with any questions or janemmms@gmail.com