Trips are filling – Act Now
WELCOME TO FALL!  of Lebanon Ski & Sport Club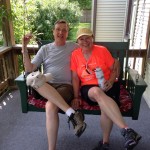 Thanks Deb and Don Bemesderfer for a fun golf and bike trip to Blairsville and the Ghosttown Trail!
Atlantic City Trip, Sunday October 5th, K-Mart Parking Lot, 7:30 AM
Fall Hike Stony Run with The Schaeffer's, Sunday October 12th @ 1 pm. Meet at Commuters Parking Lot on Rte 934 just past Harper's on Left. Car Pool to Hike Site
Club Meeting, Tuesday October 14th. 7:30 pm. Program: Troy Peters' IRON MAN
More! See our Calendar.
Objectives of Lebanon Ski & Sport Club
To encourage and promote participation in the sport of skiing and to create a general feeling of enthusiasm for skiing.
To improve individual proficiency and encourage advancement of its members in skiing.
To cooperate with regional, national, and international ski organizations.
To organize and conduct skiing excursions for its members and other persons.
You can reach us by using the contact form or send an email here.
We are looking forward to hearing from you, and seeing you soon!